"ROG Zephyrus Duo 15" .. a new gaming computer with two screens!
2020-04-02
Technology
2746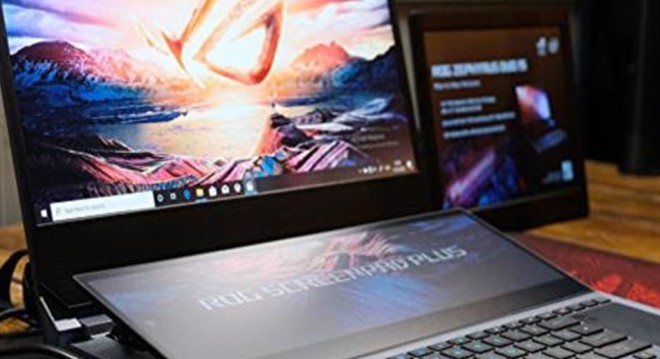 The "Republic of Gamers" gaming brand from ASUS has unveiled its new flagship computer, ROG Zephyrus Duo 15, which comes with two displays to give a new dimension of gaming laptops without sacrificing high performance. Usual ROG devices.

And the website "The Arab Portal for Technical News" quoted "Asus" as saying that "this is the first dual-screen laptop designed specifically for games, and it is a technically valid claim, although it eliminates previous dual-screen laptop computers from the company - such as "Zenbook Pro Duo" and "Zenbook Duo" - which were fairly efficient gaming consoles.

" ROG Zephyrus Duo 15" works just like the previous dual-screen laptops from Asus, there is a 15.6-inch main screen that can come in either 4K UHD with a refresh rate of 60 Hz or 1080 x 1920 pixels at a refresh rate of 300 Hz.

There is a second screen "ScreenPad Plus" touch screen built into the upper half of the keyboard measuring 14.1 inches at a frequency of 60 hertz with a resolution of 3840 x 1100 pixels, and raises the top edge of the screen from the keyboard at a angle of 13 degrees, so both screens must be in the field of user vision Comfortably while using the laptop.

Asus says it has partnered with developers to create content with dual-screen interfaces and controls, and has partnered with Adobe to develop special content-making tools.

In terms of specifications, the ROG Zephyrus Duo 15 has a 90-watt-hour battery that is charged via the USB port.-C "that supports" Thunderbolt 3 ", the most expensive model includes a" 4K UHD "screen, a" Core i9-10980HK "processor, 32 GB of RAM, 2 TB of" RAID "storage space, and a" NVIDIA GeForce RTX 2080 SUPER "graphics card , And this computer can be purchased on the first of the month of June for 3700 USD.